Videre - Color LCD Controller with Cortex-M0
The Videre LCD Controller shield provides a color backlit display for the Arduino form factor, or for standalone use. The Videre includes a PSoC4 microcontroller, which is based on the ARM Cortex-M0 processor and includes programmable analog and digital blocks. Like most PatternAgents shield patterns you can use a set of configuration jumpers to control Videre from either the UART (CLI), I2C/Two-Wire Bus, or the SPI interface - giving you the maximum flexibility to configure your other shields without I/O conflicts.
Videre Features:
16 Character x 2 Line Display
Color LED Backlighting
Selectable 3.3Volt or 5.0Volt Operation
UART, I2C, SPI Interface Selectable
Use as Arduino Shield or as a Standalone Display
CapSense Slider Bar (optional)
About Videre:
"Videre" means "to see" in italian, and it is the way to see what is going on inside your embedded projects. With it's powerful ARM Cortex-M0 internal processor, it can also be used as a standalone processor with included display, or it can be connected to any Arduino form factor processor, such as the PSoC Pioneer, Maple, or Freescale Freedom.
Videre Application Examples:
Standalone Display and Processor
Display/GUI controller for Arduino
Relay control (watering, pump control)
Videre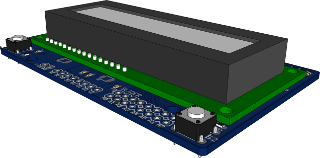 Tweet about Videre
Tweet #Videre
Videre Repository
Videre Downloads
Videre Images
Videre Licensing
The Videre Project by Moxon Design is available and licensed under a Creative Commons CC BY-NC-SA 4.0 International License. Commercial Licenses are also available for Videre.